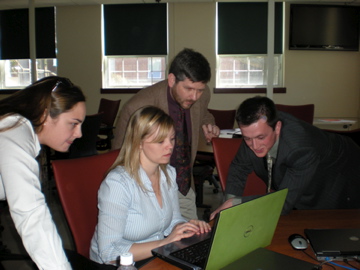 Our Approach
Anam Circle is an ecoregional network of public policy fellows and analysts who collaboratively conduct social-ecological research, perform analysis, develop models and tools, and generate policy briefs and reports that address many of today's most critical issues.
Policy fellows are experienced  thought leaders with advanced degrees who work with trained undergraduate and graduate student policy analysts on specific public policy projects.
How We Work
Anam Circle is an interdisciplinary, community-based ecosocial think tank and innovation lab that provides policy analysis and research for community groups and local governments and in the Greater Capital District of New York.  We provide thought leadership, policy analysis, applied problem solving, policy innovations, community assessments, research, strategic planning, future scenario planning, table top exercises, and community education to advance sustainability and resilience in local urban, rural and coastal communities.  Anam Circle's work can be used to guide important and timely sustainability, environmental, and resilience policy decisions and to make better evidence-based decisions. We specialize in systems analysis, systemic change, nonlinear "wicked problems", and behavior-based human dimensions (attitudes, norms, frames, narratives and behaviors).
Anam Circle engages talented and capable college students and graduate students as analysts and junior analysts  to work collaboratively with experienced public policy fellows to examine the ecological, social, economic and governance dimensions of current and future public policies.  Anam Circle analysts and fellows are trained in advanced public policy analysis, research skills, report writing and public presentations.  We work collaboratively in small teams to (1) generate public policy reports based on the findings of our research and analysis; (2) assist the community to draft policy and planning documents to address ecosocial problems; (3) host town hall meetings to inform local elected officials, community leaders, and residents, including youth, about the issues;  and (4) help the community write grants for projects.
Ríobart É. (Rob) Breen, Ph.D.
Specializations:  Environmental and Natural Resources Policy, Watershed Planning and Governance, Human Dimensions, Behavioral Insights, Systems Thinking, Futures, Scenario Planning, Simulations, and Climate Change Adaptation and Resilience
Joseph Murphy, M.A., J.D.
Specializations:  Environmental and Energy Policy, Environmental Law,  Economic Analysis, Economic Development, Community Mobilization, Communications and Media
Jeffrey D. Zappieri, M.S.
Specializations:  Environmental Policy, Ecological Science, Coastal Management and Policy,  Environmental Analysis, Sustainable Agriculture, Community Infrastructure, Project Analysis and Management
Christopher Plummer
Specializations:  Environmental and Natural Resources Field Research, Wildlife Biology, Terrestrial and Aquatic Ecology, Forest Products, GIS 
Leyah E. Saju
Specializations:  Economic Analysis, Business Administration, Government Finance and Budgeting, Statistics 
Emanuel Gutman-Gates
Specializations:  Economic Analysis, Public Policy Analysis, Comparative International Development, Human Rights Policy and Climate Change Policy
Matthew Solo, MPA
Specializations:  Public Policy Analysis, Public Administration, Government Budget Analysis, Stakeholder Analysis, Environmental and Public Health Policy, Statistics, GIS  
Join us
If you are an undergraduate student or graduate student interested in becoming a public policy analyst with the Anam Circle public policy fellows, please take a look at the position description and contact us.